Papadopoulos Fuels & Restaurants Company
Papadopoulos Fuels & Restaurants Company is the largest and better organised Fuel & restaurant Spot In Egnatia Highway for professional drivers.
Our establishments offer
Exceptional 24h facilities for your drivers who can enjoy their rest with safety, clean amenities,
Restaurant with great variety of tastes, mini market, WC, Shower, 2 Free Wi etc
Ample Parking space which can host over 50 Trucks
One of the best Restaurants with large portions of food
24h surveillance
First Aids room
Technical Base for Trucks, Lorries, Tires etc
The better equipped truck station in the whole of Egnatia Highway
Papadopoulos Fuels & Restaurants Company operates in the market of since 1980 offering professional driver the best experience available. It is a company with over 30 years of experience in the areas of gas stations and vehicles and trucks services. Our vision is to be remembered by all our customers and motorists for our exceptional service and top fuels quality.
At the moment the company has 3 proprietary petrol and gas stations, through which it offers motorists , passengers and drivers a complete range of products and services, such as
Washing cars & trucks
Card Payments (Visa, MasterCard, American Express)
EuroShell Card
DKV Card, UTA Card
High Quality Fuels (Diesel Extra + V-Power Diesel)
Ad BLUE (Catalytic agent Liquid for Euro 5, Euro 6 Diesel Engines)
Lubricants and Oils
Truck Accessories
Rest Area with Free Wi and 24/7 surveillance
Restaurant, Café and Bar with coffee, tea, snacks and food for all tastes
Automated and Manual Car and Truck Wash
Special Desalinization washing facilities
Automatic invoicing and fuel monitoring system
Turkish Speaking Personnel
Tire Repair Service
Partnership with Truck Garages to cover any incidents
Papadopoulos Fuels & Restaurants Company has managed to acquire the largest market share in the region, in terms of corporate customers' service and the supply of corporate fleets through qualitative fuels, high-level services, experienced staff and modern facilities.
Papadopoulos Fuels is based in Ioannina Greece and has 3 active Fuel stations under the Shell brand, the most important of which being located on the Egnatia highway, operating as a hub. The location (50 kilometers from the port of Igoumenitsa and literally on the Highway) is ideal from all aspects, offering safety (the establishments are guarded 24hours/ 7days a week/ 365 days per year), has large parking spaces for trucks and lorries, restaurant, café, free shower and bathroom, rest area, free Wi-Fi and free internet connection for all drivers.
More importantly our customers can rest assured that no incidents with illegal immigrants will occur. Our fuel pumps are equipped with highly advanced fuel ow monitoring systems which automatically calculate the volume and the amount of the fuel inserted to the fuel tank of the vehicles avoiding any possibility of tampering or misuse. Additionally, we can electronically inform you about the exact details of every transaction with daily and monthly reports.
Papadopoulos Panagiotis
Exit Egnatia Nat. Road
Koutselio, Ioannina
Tel: 2651055660
Fax: 2651055404
Papadopoulos Athanasios
Asfaka Ioannina
Tel: 2653022111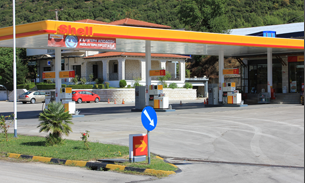 Papadopoulos Athanasios
23ο km N.R. Ιoannina-Konitsa
Vrisi Passa, Ioannina
Τel: 2653022061
Fax: 2653022061